"We electors [voters] have an important constitutional power placed in our hands;…Let us examine, then, with a sober, a manly…and a Christian spirit; let us neglect all party [loyalty] and advert to facts; let us believe no man to be infallible or impeccable in government any more than in religion; take no man's word against evidence, nor implicitly adopt the sentiments of others who may be deceived themselves, or may be interested in deceiving us." – [John Adams, Signer of the Declaration of Independence, 2nd President of the United States from The Papers of John Adams, Vol. 1, p. 81, from "'U' to the Boston Gazette" written on August 29, 1763.]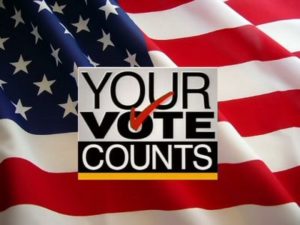 "…you shall select from all the people able men, such as fear God, men of truth, hating covetousness…and let them judge the people…" – Exodus 18:21,22
"When the righteous are in authority, the people rejoice; But when a wicked man rules, the people groan" – Prov. 29:2.
"Righteousness exalts a nation, but sin is a reproach to any people" – Prov. 14:34
"…For there is no authority except from God, and the authorities that exist are appointed by God…For rulers are not a terror to good works, but to evil. Do you want to be unafraid of the authority? Do what is good and you will have praise from the same. For he is God's minister to you for good…an avenger to execute wrath on him who practices evil." – Romans 13:1-4
"I exhort…that supplications, prayers, and giving of thanks be made for all men, for kings and all who are in authority, that we may live a quiet and peaceable life in all godliness and reverence." – 1 Timothy 2:2
We as American citizens have a privilege and duty to go to the polls and make our desires for the direction of our country known. Many brave soldiers have fought hard and laid down their lives to gain and maintain the freedoms we enjoy. It is up to us, to make sure that the rights and freedoms that have been gained are not lost due to apathy or failure to inform ourselves about the candidates and issues facing our nation. Your vote does make a difference. Take a few minutes to register, using the link provided (click on the picture), and let your voice be heard.